Structure of the Automotive Industry
The Austrian automotive industry is – with few exceptions – a supplier industry. Therefore, the Austrian automotive industry comprises companies that produce automotive parts as well as companies in the textile, chemical, electrical and mechanical engineering sectors that supply the automotive industry. Included further are companies that produce automotives in the broader sense (cars, trucks, buses, agricultural tractors) and motorised two-wheelers.
The Austrian automotive industry has so far been an industry of growth. Production has tripled over the last 20 years. In 2018, 76,700 people were employed in the automotive industry. This is an increase of 55% since the year 2000. The Austrian automotive industry is integrated into international production networks. These are often dominated by German original equipment manufacturers (OEMs). KTM is the only OEM in Austria. MAGNA builds and develops complete cars for other manufacturers and is therefore a specificity. Some companies are branches of large car groups – BMW, Opel, MAN, Fiat – whose headquarters are located outside Austria. At these production sites usually components are built, but assembly work also takes place and in some cases, development activities are undertaken. The supplier industry consists mainly of small and medium-sized enterprises. Some of them are classified as hidden champions, because they are world market leaders in their niches, with a high export share.
The map shows the situation of the Austrian automotive industry. Those companies that mainly or entirely produce automotive components are marked in blue. The yellow circles show that production is variable and more diverse. Rings additionally indicate those companies that have specialised in combustion technology. The size of the symbols correlates with the number of employees in 2018.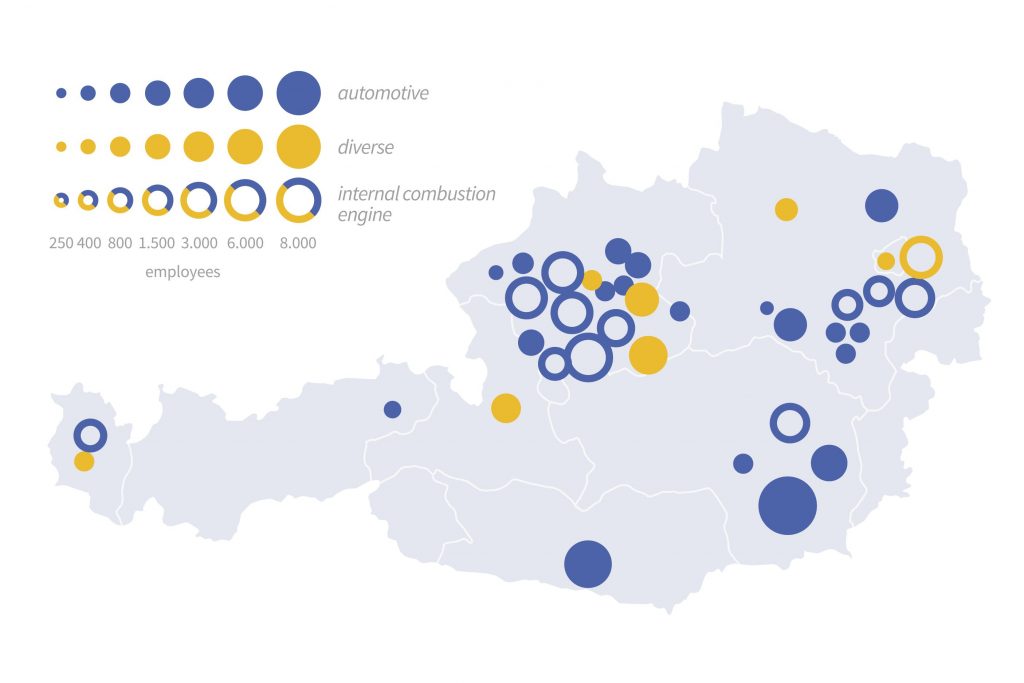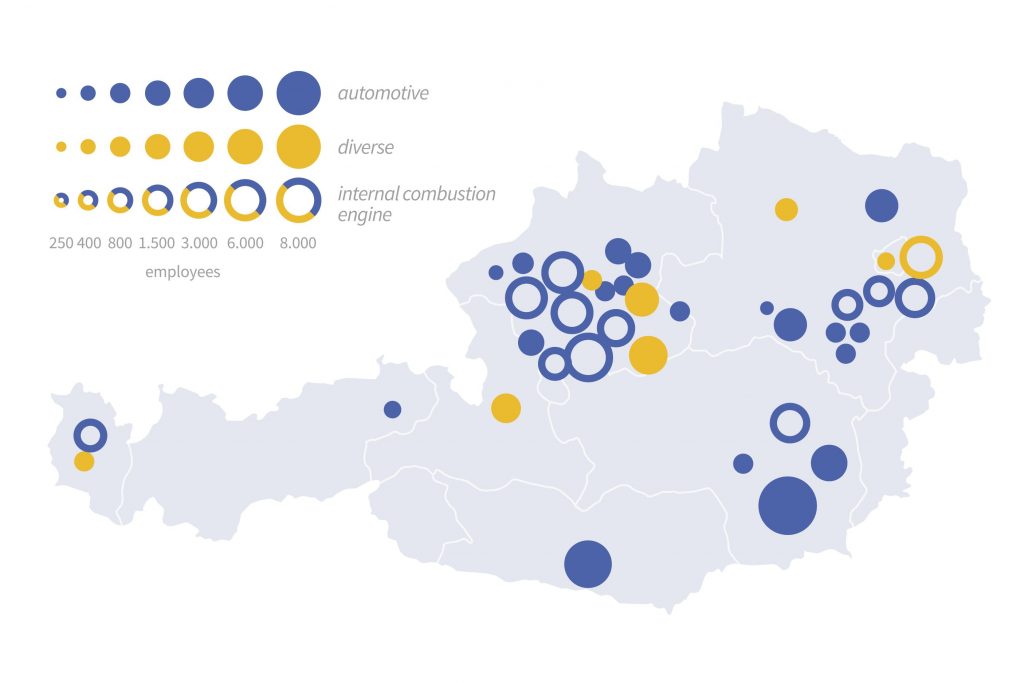 Three characteristics of the industry could have a negative impact in the future:
Focus on the combustion engine. In 2018 a quarter of the production value of 17 billion Euro was generated in the area of engines and transmissions.
Dependence on the German automotive industry. 87% of products are exported, more than half of them to Germany.
Lack of decision-making power. Headquarters and therefore key decision-making powers are mostly outside of Austria. 65% of the employees in the automotive industry work in subsidiaries with headquarters abroad.
Top 10 Austrian Companies in the Automotive Industry
Company
Revenue
(in Million Euros)
Employees
in Autria / worldwide
Headquarter
(Country)
Magna Steyr
5,350
9,300 / 13,500
Canada
BMW Motoren
3,647
4,647 / n.s.
Germany
AVL
1,750
4,150 / 10,400
Austria
Greiner
1,631
n.s. / 10,785
Austria
KTM
1,560
3,625 / 4,303
Austria
Bosch
1,359
3,044 / 407,485
Germany
ZKW
1,340
3,528 / 9,250
Germany
MAN Truck & Bus
1,084
1,929 / n.s
Germany
MIBA
985
2,818 / 7,377
Austria
Rosenbauer
909
1,397 / 3,516
Austria
The Car Under Pressure
The type of automobility familiar to us – combustion engine, private car, person driving a car – is coming under pressure. Some keywords for this are: Electrification, mobility as a service and autonomous driving. This also has an impact on the Austrian automotive industry.
Production and maintenance of an electric car are less complex than for a conventional car; this is particularly true for the engine. Austria has special expertise in this area (combustion engine, transmission, all-wheel). Here, both value-added and jobs would be lost if the electric engine were to become established. A recent study by the Ministry of Transport estimates that 24,000 jobs could be lost. On the other hand, high value-added lies in the production of batteries, which are currently produced mainly in Asian countries. Electric cars could be more environmentally friendly than conventional cars if accomanied by a change in usage behavior. If car ownership is replaced by sharing models, fewer cars will be needed to maintain the same level of mobility.
The automotive industry has high hopes for autonomous driving. This could lead to strong growth in the industry, especially for specialized companies. At the same time, this trend could also lead to more cars and less public transport, because automated driving combines the advantages of public transport with those of the car: You are chauffeured, but still retain the privacy of a car. It is unclear which developments will prevail, and this unsettles the entire industry. What will be important is whether and how the public sector – federal government, cities and municipalities – intervenes and regulates.